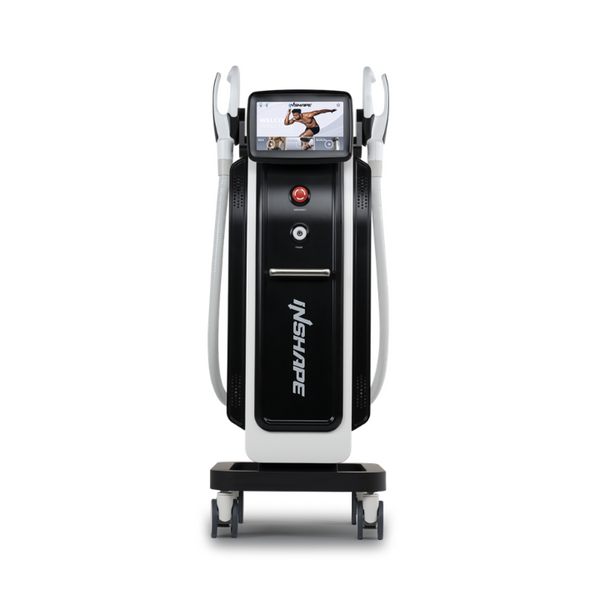 InShape is a new generation of body shaping solutions that employs Intelligent Automatic Muscle Training (IamT) technology.
InShape with IamT applies super electric impulses generated by an electromagnetic field to muscle in order to induce forced muscular contractions. It is an automatic reaction that is equivalent to an intensive strength exercise such as 20,000 squats or sit-up. Treated muscles get remodeled and rehabilitated. It results in more toned and firmer muscles of abs, thighs, and buttocks for a better aesthetic appearance.
InShape enables to bring the effects without pain, downtime nor any discomfort and non-invasively.
InShape for both Muscle & Fat
InShape induces supramaximal contractions on muscle with IamT in order to force involuntary workout.
As a consequence of extreme workout, muscle grows in volume and strength, and fat burn up at the same time. This non-invasive body shaping treatment is the safest and effective. 
InShape effect on MUSCLE
The targeted muscle is exposed to an electromagnetic field and treated selectively.
Microscopic tears are caused on myofibers as consequence. Muscle recovers and rebuilds gradually, resulting in muscle growth (Hypertrophy) & multiply of myofibers (Hyperplasia).
InShape effect on FAT
Fat cell breakdown follows while muscle grows. For extreme muscle activity, the body requires immediate energy supply to the muscle. With this purpose, fat breaks down into fatty acids and glycerol. They are supplied to muscle as ATP (Adenosine triphosphate), the energy source. The decomposed cells are used up and the rest drained via the metabolic process.