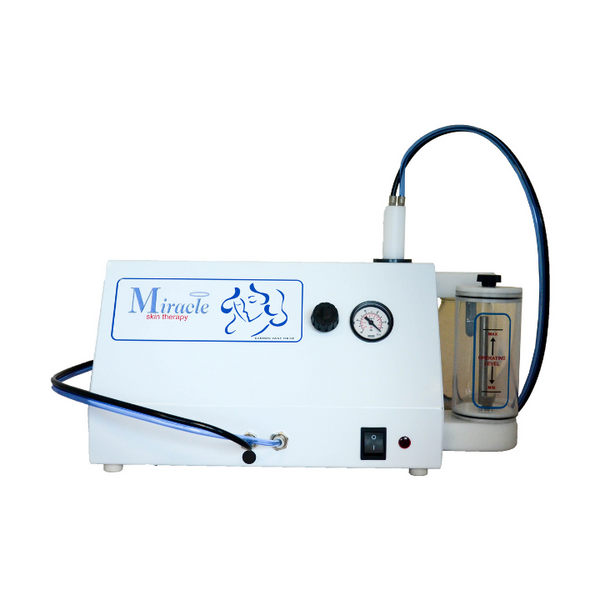 Miracle Microdermabrasion (MDA)
What is Microdermabrasion?
The treatment also encourages the production of a new underlying layer of skin cells with higher levels of collagen and elastin, which further improves your skin's appearance.
There are 2 resurfacing methods of MDA: (1) using ultra-fine crystals (2) Diamond tips
Crystal MDA
The crystals are composed of aluminum oxide crystals (corundum) these are safe and inert cause no allergic or adverse reactions. It is not toxic when ingested and is non-carcinogenic.
Aluminum Oxide crystals have been the most commonly used abrasive or ablative agent for the last 20 years.

Aluminum Oxide is the second hardest mineral (diamonds are first)

The system projects a fine flow of micro-crystals onto the skin which are simultaneously "vacuumed" away with gentle graduated vacuum suction. This creates a gentle abrasive on the skin to remove dead skin cells
layer by layer (think like light "sand-blasting" action).

The vacuum action draws away used crystals and dead skin cells and also works to stimulate circulation and promotes increased blood flow to the area. The production of collagen and elastin is stimulated, which results in firmer, more youthful-looking skin.

The degree of epidermal abrasion can be varied by altering the crystal's speed when impacting the skin.

The removal of the stratum corneum results in skin that feels instantly smoother and fresher, whilst promoting new skin and collagen growth.
Benefits
The treatment approach should be progressive rather than aggressive meaning clients will continue to see results over the course of treatment.
Over a course of treatment skin will be left 'glowing' and will feel rejuvenated.
 Crystal and crystal-free can be used under the same conditions. Keep in mind to use caution on sensitive skin with the crystals.
Improvement is superficial hyperpigmentation/photo-damaged skin
Improvement to mild acne
Reduction of fine lines and wrinkles
Helping with the appearance of enlarged pores
Reduction in the appearance of stretch marks
Better product penetration
Increase hydration